Floods in Pakistan
The 2010 summer monsoon rainfall in Pakistan is extraordinary intense. The result is one of the worst floods in decades. Currently several areas are flooded, and other areas are at risk to become flooded. According to the UN, the flooding has submerged entire villages in the past weeks, killing thousands of people and affecting more than 2 million of people. And the situation could get worse, as we are only midway through the monsoon season. Updated information on the actual situation is vital to supporting relief workers.
Population density of Pakistan
Transport and communication infrastructure is cut off in many areas. Reliable information on the extent of flooding is scarce. Satellite observations can provide up-to-date and objective maps. Some of these maps are made available by the NASA, USAID, BBC and Darthmouth Flood Observatory. In addition, WaterWatch has made available daily maps of flooded land as displayed in the animation on this website. Daily updates are possible as the microwave AMSR-E sensor onboard the Aqua satellite has the unique capability to penetrate clouds. WaterWatch has built an algorithm that combines the AMSR-E measurements and converts it into maps of inundated land.
A series of daily images is portrayed below. It shows the progression of the flood since July 10 (2010). The images are updated daily. The duration of the flood is visualized from a map displaying the accumulated period that water is standing in the field. Currently the flooding has reached Sindh province.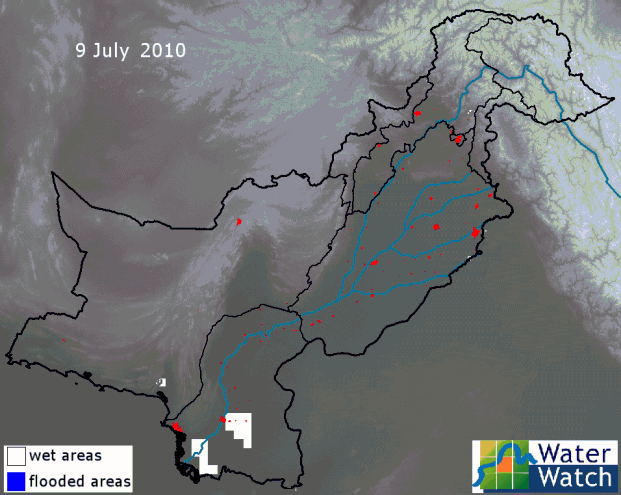 The flood maps of WaterWatch are based on the microwave AMSR-E soil moisture datasets. Microwave satellite observations have the great advantage that they can penetrate clouds, and thus provide daily images for the entire country. The following animation shows how the flooding progressed over time.
The WaterWatch flood map has a coarse resolution. Higher detail flood maps can be created using optical satellite data. Flood maps based on optical satellite data can however not provide daily updates as shown above as they only acquire data under cloud-free conditions.